Exiting news from Sweden Yachts, Malø Yachts, CR Yachts and Regina Yachts - an interview with the CEO
In Sweden, established boatbuilders are joining forces
A significant and exciting new development in the world of yacht building: Sweden Yachts, Malö Yachts, CR Yachts and Regina of Vindö Yachts, have amalgamated as Sweden Yachts Group.
CR Yachts and Regina af Vindö have moved all production and employees to the Malö shipyard at Kungsviken, Orust, where Sweden Yachts are also produced. Several boats have entered production at the yard already, for example the Sweden Yachts 54, Sweden Yachts 45, Regina 40, Regina 43 and the CR 380 DS.
Managing Director Mattias Rutgersson confirms, 'This collaboration has made us a strong contender in a market where the customer has many well-known and established brands from which to choose. All of our yachts will continue to be built to the same very high standards by professional boat builders highly-respected for the quality of their workmanship. Exciting new additions to each brand are underway and these will be announced in due course.'
All yacht hulls and interiors will continue to be built by hand. Sails, stainless-steel fittings, covers and other products are sourced from specially selected local companies.
- We had a chance to talk to Mattias Rutgersson about the present and future plans for the iconic Swedish brands.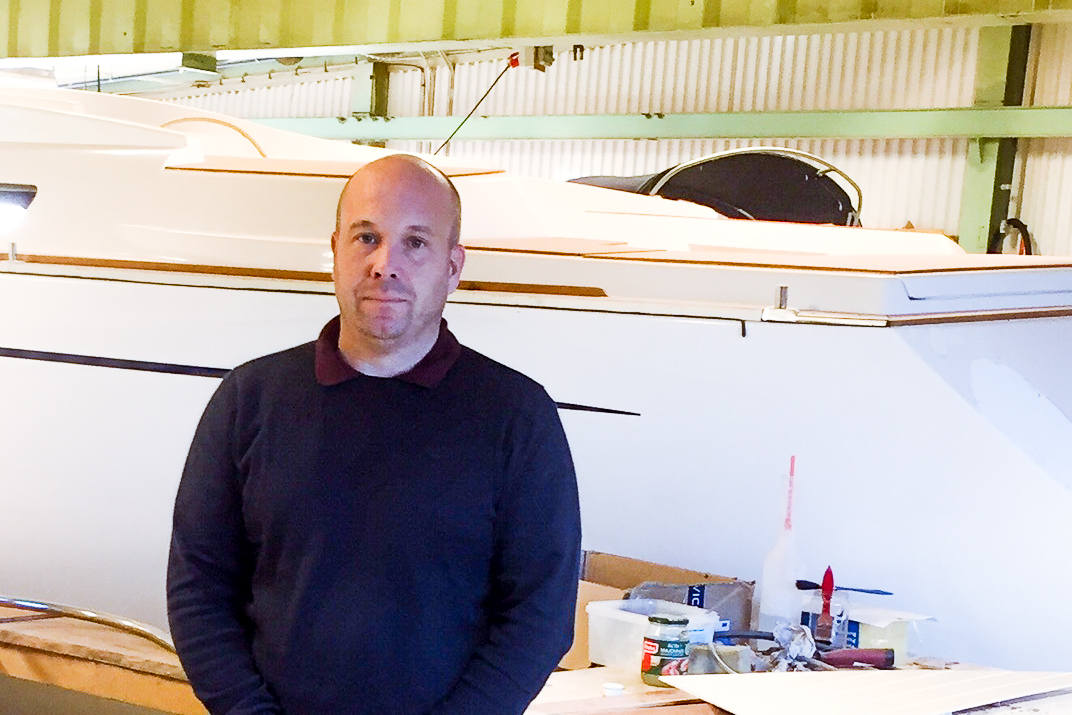 Interview with Mattias Rutgersson
Managing Director of Sweden Yachts Group
Can you tell us a little bit about your background and how you got into sailing?
- I was born into a boatbuilding family. My father, Charles Rutgersson, started his career as a boat builder at Hallberg-Rassy and worked there until he started his own business together with his wife Marita that was CR Yachts. The company is now owned by myself and my wife Camilla.
Throughout my childhood and teenage years I spent a lot of time on various boats, along with many summer holidays at Optimist sailing school.
Sailing and running a yard sort of matches, but running a business in the digital economy amidst a recent recession in Europe is a different mission all together. Can you share some of your strategic thoughts?
- A very large part of our marketing is carried out on social media, such as Facebook, Instagram etc. It is a faster way of sharing news, new ideas, etc, rather than waiting for printed magazines.
Sweden Yachts Group consists of four different brands. How did the merger come about?
- Discussions have been ongoing for several years between Bob Erixon (owner of Malö and Sweden Yachts) and myself. Firstly we considered combining the production, but it ended up with the merger instead.
Tell us more about the different brands and how they position themselves towards different target groups?
- All our brands have the same high quality and we build each boat to a customer's specifications meaning that we (on most models) can provide adjustments to the layout, equipment, etc. We are currently working with the final brand and model strategies, so the following information may change, but at the present it is as follows:
CR Yachts – Will be the brand with a modern design, addressed to those wanting a high quality boat along with great sailing performance. Interiors are lighter with less wood.
Regina af Vindö – These boats are more traditionally built with a lot of wood inside, stainless steel parts such as the bespoke stainless steel framed deck windows. The hulls have long keels(with todays measurements), skeg for the rudder etc.
Malö Yachts – Like Regina, Malös are a more traditional Orust boat with a lot of wood in the interior, handcrafted by our skilled workers (not CNC machines.) Stainless steel details are ever present on the exterior, and the hulls are traditional with longer keels, skeg etc.
Sweden Yachts – This is the top of the line brand that is addressed to those who want the best of the best. The design on both the exterior and interior is a sort of mix between modern and traditional. SY offers carbon hulls, carbon rigs and the attention to detail can be seen everywhere on these boats.
How do you see your position in the European market and what is being done to attract sales from a region with much of the needs of your designs?
- I feel that we have quite a unique position in the market. We have a collection of some of the best brands the market has to offer, along with a large variety of different models currently ranging from 37 to 54 feet. We are a small yard with highly skilled workers, enabling us to adjust each boat to a customer's bespoke wishes. We are delivering boats to customers all over the world.
If you imagine a typical European family with two adults and two children, which yacht from your portfolio would you recommend for a cruise to Scandinavia? For example a passage up to Denmark/Sweden then the west coast for Norway up to Northern Norway and then back to mainland Europe via Shetland and the Faroe Islands.
- Every model in our range is built and designed to be sailed everywhere, so it is more of a question of budget and in which style you would want to sail everywhere. My suggestions would be as follows:
CR 420 DS- (will be introduced in 2018) a deck saloon boat with 4 fixed beds, large lockers and a layout perfect for a family. A very sea worthy and fast boat with large deck and interior space.
Regina 40- a deck saloon that offers a very open and light layout with saloon, galley, navigation and one toilet on the same raised level. A huge aft cabin that basically can fit a whole family but also have an owner's cabin in the bow with an en suite.
Malö 43- A traditional Orust boat for those who wants the tried and tested.
The new Sweden Yachts 48- The newest model in the range for the family who want high comfort along with a feeling of luxury. It has a lot of space for tankage and equipment such as generator, water maker etc. Developed for long distance sailing.
The Malö Yachts have always been conceived as a proper bluewater cruiser. Can you elaborate on what design traits and features makes these particular yachts well suited for long distance offshore cruising?
- Some of the characteristics that the Malö's have that makes them great blue water cruisers are, for example, the laminate in the hull and deck are slightly thicker than is really necessary making them a bit heavier and of course stronger. They have relatively long keels, built in prop shafts and semi skeg for the rudder. All the aforementioned make for a solid, seaworthy boat. They also have a protected cockpit with the typical Targa arch that keeps the mainsheet out of the way. With the classic stern they have huge amounts of locker space.
Sweden Yachts has been a famous and much admired brand worldwide since 1976. Financial difficulties in recent years must have seriously affected the brand. What will Sweden Yachts Group do to re establish the extraordinary reputation the brand had before?
- We are currently negotiating with several potential customers for Sweden Yachts and are hopeful that we will shortly have a couple of SY in production. Our goal is to have a big launch at Boot 2019 (if not earlier) with boats that have the same high quality as when built in Stenungsund along with some new fresh ideas, thus showing that Sweden Yachts are back for good!
It seems that you are revamping some of the older Sweden Yachts designs and offering a number of improvements. Can you tell us more about the details of the mkII projects?
- This decision was taken before I got involved so we will see what happens with the model program shortly. Many exciting ideas are circulating. Among others the new 48 ft cruiser just released and another exiting model coming soon. (Read more about it here.)
What are the main demographics of the CR and Regina Yachts? What kind of customer is the typical Regina Yachts/CR Yachts owner and what are their priorities when commissioning a yacht?
- The main demographics for CR and Regina is 50-65 year old men with their own business. 50% of them use their boat for normal holiday sailing and the other 50% equip their boats for blue water sailing.
Some of the CR Yachts and the Regina Yachts both have deck saloons. Are you not concerned that similar designs may cannibalise sales across the brands?
- Even though they may look similar, there are many differences. Compared with Regina the CR offers a more modern design inside and out, with larger cockpits and storage. The Reginas on the other hand have a more traditional design with longer keels, skeg for the rudder, more wood in the interior and large aft cabins.
Refitting an older yacht may be a fruitful alternative to buying a new yacht. Can you tell us more about your yacht service and refitting offering?
- We have a separate yard that works only with winter storage, refit and service of boats, specialising of course on the brands within the group. We do several larger refits every winter.
We have written about the future of yachting in the magazine. About technology, but also about sustainability. What sort of technological inventions can sailors expect to see from any of the Sweden Yachts Group brands?
- At present solar panels, hydrogenerators and wind generators are available on our boats and we are always interested in new developments.
Many of our readers are focused on environmental matters. What sort of focus do you have on further improve sustainability of your building and design of yachts?
- Environmental matters are important for us. We carefully choose the materials we are working with and have options, for example instead of mahogany we can offer American White Oak and instead of the plantation teak we can offer plastic teak, etc. We also source many of our other fittings and products from local companies and all of our waste is sorted and recycled where possible. Our yard is also heated by modern, efficient heating.
If one of Scandinavian Mariner Magazines readers finds one of your yachts interesting and wants to know more, what models will be shown at boat shows in Northern Europe in 2018?
- What we have decided so far is that we will be at Open Yard in Ellös in August and Southampton in September. We are as yet to decide which models and brands will be shown.
Lastly, what if a family wants to go visit the yard, test sail and talk to the builders and designers, would that be facilitated?
- Absolutely, we always have at least 4 boats in production and access to most models in the area.
Thank you to Mattias for talking to us. A thanks also goes to Lydia Spencer-Smith for facilitating the interview.
We wish the entire enterprise the best of luck and look forward to a Turbo Charged Swedish Boatbuilding Industry moving forward.
If you are interested in getting a new yacht from Malö Yachts, Sweden Yachts, CR Yachts or Regina af Vindö Yachts you can find the websites here.
Make sure you never miss the yachting news from Scandinavia on Facebook
We may not meet in person, but we can still exchange ideas and experiences.
Join in our Facebook Group