Sailing in Scandinavia with a pirate onboard - An interview with French cruisers François & Valérie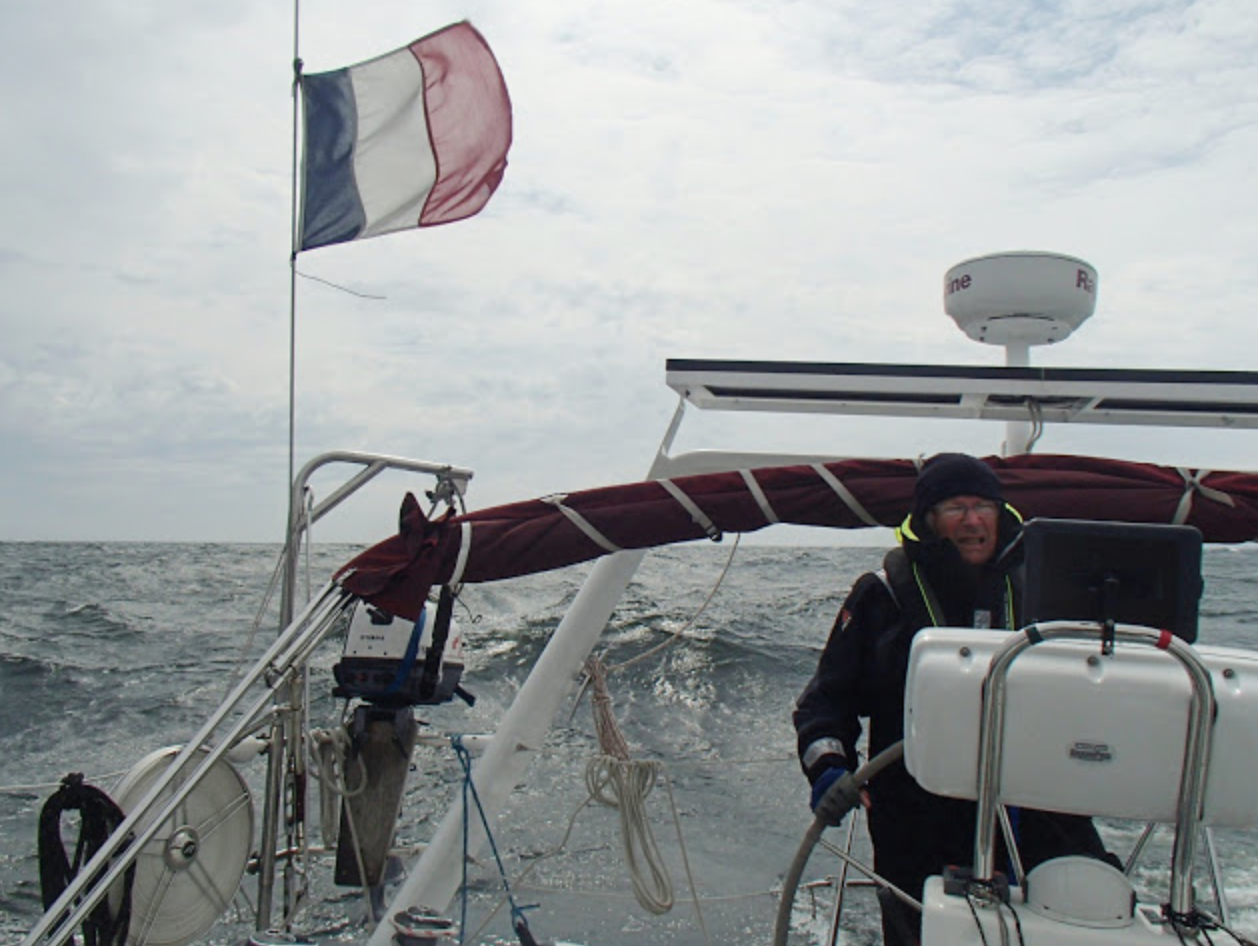 What makes you sell your house and leave a cozy retirement in France in exchange for a colder, darker and more expensive climate?
A whole lot, says François & Valérie. A retired french couple who left the banks of the river River Vilaine in 2013 onboard an Ovni 445 the "Cybèle 17", for an adventure in the Baltics & The Nordics. Onboard is also a real pirate!
Please tell us a little bit about yourself and your background?
François: I come from Bretagne and I have sailed since I was 11. My father learned sailing with a little dinghy « Vaurien » and from reading books. I was also interested as I grew up and learned more about sailing alongside him. French sailing magazines, like the Neptune-Nautisme was of great inspiration. My father later on bought a Corsaire, then several other sailing boats. He sailed till he was 75 years old.
Since childhood I was consumed by sailing. I wanted to become a professional skipper and deliver yachts. But my parents wanted me to study at the university, telling me that a proper job would allow me to have my own sailing boat one day! So I became a Surgeon .
Throughout the years I sailed on many different yachts, but did not have enough time to have a Yacht of my own.
When my late wife became ill, I bought a motorboat to help her to go out to sea. Unfortunately she passed away due to her illness. I was alone. My three children were in three different towns and lived their life on their own. After six months I decided to round Cape Horn in a 42' charter boat.
In 2002, I met Valérie. She had a cat called Pirate, three children and was interested in sailing and we bought a motorboat that took us quickly from Brittany to the south of England, but we had bigger dreams.
We spent the next ten years dreaming and specifying our next boat. We wanted it to be safe, strong, easy to use, insulated yacht fit for two people. The yacht had to be big enough to bring guests and family as we enjoy company. We also specifically wanted a centreboard to enter shallow waters. The route was always to head north since I can not stand the heat. We then started to look for a second-hand Ovni. The result was an Ovni 445 built by Alubat. It was expensive, but this was the boat we both wanted.
At the end of 2011 I was 62 years old and we finally found our dream boat in Portugal. Valerie suggested we would sell the house and most of our belongings in order to have full financial freedom. After getting the yacht, we went back to France to prepare and explain the project to our 6 children. And then we left…
- Today I have no regrets. Each day I know I am lucky to be able to live my dream together with my wife.
Valérie: I am now 56 years old. I have 3 children, and 5 grandchildren. And of course I have Pirate, the cat.
I have lived most of my life in Brittany and spent my childhood in different french regions. I studied foreign languages and when I was forty, I spent a year in a business school for a Master in company creation and management.
I have worked mostly in management. The past ten years in my own business as consultant for sales organisations. I also co-founded a business network for entrepreneurs in Brittany.
I had been divorced for several years when I met François, who in fact operated on me in 2002, and we got married in 2008.
My children, two boys and one girl, are all living in France. They now have their own families and I have five grandchildren. My boys works in maritime business and both are very interested in sailing. Our tribe get along well!
My parents are 82 and 79. they live in Brittany and follow our journey with François' blog.

Our cat is named Pirate. He is now 17 ½ years old. He arrived at my doorstep in 2000 and never left. He was used to live in a house with a garden until we moved onboard in 2012. It took him a few weeks to get used to his new life, but soon he discovered how to enjoy it, He is always the first to go ashore for adventures. Now things are much more difficult for him. He now has pain in his rear legs and moves very slowly. But still, he seems to feel at ease onboard with us. He is rarely seasick, and love to stay in the aft cabin during passages, especially if it is rough weather. He has his litter box onboard, so he doesn't need to go ashore.
I love meeting people and discussions. I love networking and have joined groups on Facebook like Women who sail Northern Europe, where I discovered your magazine. I even created a group in French called Femmes en bateau.
I must add, that I am quite well organized, and I like to plan our journey, when we have guests onboard and the activities on shore.
Organization is important for liveaboards, in many ways. To save time, and to save space.
I've been sailing since I've been a child with my parents on a small 4,5 meters motor/sailor boat. We spent all our summers on the shores of Brittany. My parents put me through sailing school as soon as they could. Summers have always been spent on the water.
Please explain why you chose to sail north to Scandinavia instead of south to the mediterranean?
François: I already knew France and much of southern and western Europe. I was dreaming of lower temperatures, new landscapes and if possible, not a lot of other people. Scandinavia seemed to fit the bill. We wanted to discover something new in spite of language barriers and higher costs. And the reality surpassed our dreams!
Valérie: I always dreamt about the northern countries. I had spent ten sunny days in Oslo and I loved it! Originally we had planned on cruising in Scandinavia for two three years, and then head back south to the Mediterranean. We figured it was probably better to begin our journey in the cold end of the earth and end up in the warm end.
Now, we are stuck there. We discovered all the possibilities when arriving in North Germany and Denmark the first year. There we met with and discussed with lots of sailors, who introduced us new horizons for cruising. At first, we had not even thought going to Baltic but it soon became evident that we had to.
Not only is it beautiful here and we have an infinity of possibilities for anchorages and harbours. But contrary to common belief, It's also much cheaper to sail here than in Mediterranean. Cheaper, and safer. Here we can leave the boat without locking it. Ports are half the price of what you pay in France. The cost of living is not that more expensive. Only alcohol and restaurants are more expensive.
It's also less crowded. Only July is a bit tricky for entering tiny harbours in Denmark or Sweden, but those holiday weeks we choose to anchor elsewhere.
And we love wilderness, nature, and all the berries we can pick!
Tell us about your route from the day you departed France?
François & Valérie: We left Arzal in South Brittany, on the River Vilaine, in april 2013.
We stopped in Brest, to bid farewell to family and friends. Then we sailed along the northern coast of France and visited two ports across the Channel in England due to bad weather. We usually stop for the night, except when making longer passages, because we are not in a hurry and it's much more comfortable.
So from France, we sailed directly to Holland. We have sailed (or motored) through all the Staande Mast Route, from Vlissingen, to Lauwersoog. Passed through Amsterdam at night in convoy!
We then sailed quickly past all the Frisland islands, and went through Kiel Canal and from there we began to explore the Baltics.
The first season, 2013, we sailed all around the Danish islands, along the coast of Northern Germany, up to Bornholm and Rügen in the east, and Middelfart in Denmark to the west. Cybèle stayed in Kiel for the winter, as we had to be back in France.
2014: We sailed from Kiel to Stockholm and to the Åland archipelago in Sweden. Then to the Turku archipelago and Helsinki in Finland. Onwards to Tallinn and a few other harbours in Estonia back towards Gotland and then to Heiligenhafen in Germany for repairs. After work on the boat we sailed to Stockholm with a stop in Gotland, for the winter. We had found a good harbour for the winter there, and we spent 3 winters in Stockholm.
2015: Departed Stockholm and spent eight weeks on Göta Canal across Sweden. Then up along the coast of Sweden to Oslo and Kristiansand in Norway and back to Stockholm via Limfjorden in Denmark, Anholt, Gilleleje in DK, and South of Sweden. Weather was very bad, so it took us three weeks instead of the one week we had estimated.
2016: Finland. The Gulf of Bothnia, up to Haparanda. Höga Kusten in eastern Sweden, Lulea archipelago, Haparanda archipelago. Down along the coast of Finland, Kemi, Kokkola, Jakobstad, Vaasa, Turku archipelago, and Åland archipelago of course.
2017: We departed Stockholm late april, sailed South of Sweden, with a last stop in Christiansø. Went up western coast of Sweden to Tjörn, for more work on the boat in May. Crossed early June over to Skagen in Denmark, and crossed on the 4th of June to Mandal in Norway.
We have cruised all along up the Norwegian coastline, and are on our way to Tromsø via the famous Lofoten Islands.
As mentioned earlier, we have discovered that we were not in a hurry, and that it is better to sail slowly, and stop often to discover. We have adopted the « slow life » or « slow sailing ». We sail AND travel.
You sail an Ovni 445. A french aluminium boat known for being a solid quality cruiser. Why did you chose this particular yacht and how do you like it for sailing in the Nordics? Is there something in the design and construction that makes it particularly fit for cruising in Scandinavia? How do you like the centreboard and does it prove stable and seaworthy?
François: The Ovni 445 answers to our specifications.It is safe and strong. In France they call it the 4x4 of the seas. She is well insulated and very comfortable either with two or 3/4 onboard. The yacht is able to carry us and a lot of stuff as she is our home. Suitable for all seasons. The yacht carries our tools, a lot of spare parts, two sewing machines, a washing machine, two bicycles, and so on. Autonomy offshore with water tanks of 500 litres and 500 litres of diesel. She carries solar panels and a wind generator. She is also heated with a diesel stove, or electric heaters when connected to shore power in marinas.
The only thing missing is a dog-house that would allowed us to steer the boat from a sheltered position. The centerboard is practical in shallow waters, but also in heavy weather. Sometimes narrow manoeuvres are a bit difficult. The bow-thruster is compulsory for us because of the twin rudders and much windage.
Valérie: The choice of yacht was François'. He dreamt of that boat for many years. Since our original plan was to leave and sail for a long time. Even to sail across the Atlantic. It was necessary to have a blue water cruiser. It's also a very comfortable boat under sail, and François hoped that I would feel more at ease with this sort of boat.
Now, even if we don't plan to cross the Atlantic anymore, this boat is still perfect and safe for all our travels.
If you could chose a brand new yacht today, what would it be and why?
François: I think I would have the same! Not bigger, but with a dog house , and the possibility to steer from inside the boat. The set up would be the same. I would choose the same main (3 reef , fully-battened) , but with a genoa and a solent. Easier to use than a staysail which need runners. Perhaps a L- shaped galley and a workshop instead of the second shower. And a good HiFi System. For listening to that all important Classical Music!
What are your daily tasks onboard? How do you usually spend the day at sea and on land?
François: Most the days are quite different. We spend time maintaining the boat, prepare passages and legs, especially Valérie with the help of iPads, guide books and tips from sailing friends. We cook, again Valérie as she does it really well! Then there is a time to dream and wonder. I take photographs and write my blog. The blog is very important to me. It is my not only helpful for keeping our memories, at 68 I forget a lot, but also for sharing our adventure with family and friends. The blog is not a guide, but more like an unpretentious travel journal.
Valérie: Apart from the cooking (me) and the dishes (him) we mostly do everyday tasks together. The daily tasks are quite the same as on land. Cybèle 17 is our home. But one thing is important to understand; all tasks take more time than on land. Why ? Because we move slowly in a confined space and secondly, we always have to tidy up and put the items that we use back at their place after use. Otherwise it soon becomes impossible to live onboard!
As mentioned earlier, we mostly sail in daylight and we sail legs from 5 to 60 nm. It all depends on the weather and where we are heading. If we have longer legs, or if weather forces us, we can leave early.
If we have nothing special to do, we start our days much later. We are not early birds and we sleep a lot! So getting up around 8.30 or 9.00 is not rare. Then breakfast ; preparation, eating, reading news on internet, dishes. We need about 2 hours before departure. Then, preparation of the boat, together. Manoeuvres, together. And we both like to steer, so we swap regularly.
Under way, one is on watch, often François. I like to read, or rest, or just look around if we are close to the coastline, which is often the case. We have no special tasks during that time. Only prepare lunch. We are French. Meals are regular and of course important.
If we arrive early enough at our destination, we take the time to walk around and explore a little bit. Dinner is between 19.00 and 21.00. Nothing fixed really. And then the dishes of course.
After dinner, we rarely go out. We prefer to spend the time with communication, internet, email, phone, etc. with friends and family. Or read, or play games. François usually spends this time writing his blog. And I manage several groups on Facebook. We also rarely eat in restaurants to save money.
Time on land are usually spent exploring or we go hiking. Even picking berries or winkles are fun activities. . If the weather is bad we have time for tidying up and cleaning our home. We spend two to three hours doing our grocery shopping. And then there is the always ongoing maintenance onboard.
If we have to sail longer overnight passages we begin our watches immediatly after departure. Generally 2 to 3 hours each, and we rest or sleep if we are not on watch. The one on watch is ALWAYS on deck, and on the look out every ten to fifteen minutes. We also have a timer to wake us if we fall asleep.
Can you name any differences other than geographical, between cruising in the different Scandinavian countries?
François: In my opinion the seasons are different between the countries. For example the Fins sail longer than Swedish, who put their boats on the hard in end of August, and close their marinas. Norwegians are mostly on motorboats.
I think also that weather forecasts are better in Baltic than in Norway, perhaps because of the mountains? We needed to learn other ways of mooring in Scandinavia. Bow-to, anchor on the aft piles etc and in Norway we needed to calculate the tides, like in Bretagne! Ports in Denmark and Germany have a lot of piles (we hate them!). In Sweden, boats are moored to rocks ashore, and often tied to each other. In Finland, and Estonia we have found marinas with gangways. We have found several free guides to help us along the way.
Have you noticed any cultural differences among Scandinavian sailors and french sailors? Are there different styles or any other practical things that french sailors do differently?
François: Firstly we are surprised by everyones honesty. There is little control with harbour fees, but everybody pays anyway. We thought that Scandinavian sailors don't help each other as much as in France when arriving in port, but they do! Valérie is a specialist in public relations, and now we have friends from all over the world. I think we see more "true sailors" than in France, but perhaps because sailors are not so numerous as in France.
In Scandinavia we found also a lot of ports with good services like barbecues and saunas in Finland and Sweden. The same for activities for children. We can add that ports and marinas have better facilities than in France. They are well equipped and clean. Of course, there might be a few language barriers, but it usually works out fine.
Valérie: Honesty is the hallmark of Scandinavians. And Scandinavian cruisers mostly have boat with a cockpit tent. They usually close it when mooring in marinas, and stay inside.
Who is cruising in Scandinavia for? Elderly, younger families etc?
François: For everybody, if the crew is good! The boat is not the most important. You need to study the routes, learn about the particularities of the buoyage and the weather, but youare never far from shelters (except some very dificult passages. And there is almost no tide apart from northern Norway.
Valérie: Anybody can go cruising in Scandinavia! But I must admit that most of scandinavian harbours are very family friendly, and well equiped for children. It's also a good area for retired sailors who have time to spend to stroll around, as there are a lot to discover ! And it's much more quiet outside of the Scandinavian holidays.
How do you find the climate and weather in Scandinavia?
François: Sometimes painful! Weather forecasts are not very precise. Even if I read different sources. But when the sun is out, it is very nice. In one year in Norway we were landlocked for more than two days three or four times. The weather can change several times a day, sometimes quickly.
Valérie: Well, not that bad, except this year in Norway. We usually have had at least 4 to 6 weeks with good weather and warm temperatures. The Baltic is fantastic with warm water in summer! But, of course, we must accept to wear our warm clothes until late in June, even in July, and again late August! If you have the right clothes, it is no problem.
Scandinavian countries are known to be expensive. How would you describe the discussions you have around the budget onboard?
François: We don't go to restaurants, we rarely go to the Vinmonopolet (Norwegian Liquor Store) twice the price of Sweden, which is expensive! And it's very difficult to buy nice groceries. We were used to the very large selection and quality in France. For example it is difficult to find nice bread, good cheese, nice meat and so on. We calculate to spend only on compulsory things and I try to maintain the boat in a good shape. On the other hand, prices in the marinas are lower than in France.
Valérie: Same as François. Most cafes and restaurants are more expensive, so we avoid them. If we cook onboard, it's much easier. And in Norway we try to fish! In any case, life onboard is much less demanding than on land. We need much less, and have much less space to store new items!
How is it to cruise as a couple? Do you sometimes miss more crew members?
François: It is practical to be two onboard , each knowing what to do and what the other will do. A third crewmember may be useful for long trips. We can have two people onboard without any knowledge about sailing, as long as they are happy and enthusiastic !
Valérie: It's fine ! We both know what to do and how we want them done. We never miss a third crewmember, but when we have one, it's much more comfortable especially for manoeuvers and when we do long legs. You get to rest more between each watch.
If you had to describe Scandinavia with only one word; what would it be?
François & Valérie: FANTASTIC!
What are your plans for the coming winter?
François & Valérie: Leave the boat in Tromsø and going back to France for five months to be with our six children, nine grandchildren, family, and a lot of friends. Then return to Norway to prepare the boat in the spring.
Where do you plan on cruising next and why?
François & Valérie: We have no plan! Or too many? We will decide during the winter. Our options are to sail to Svalbard in July, but then we would have to look for more crew. At least one more. Lots of things are compulsory for sailing there, so we have to study it. It's more like an expedition than a cruise there. Or, we just sail down to Bergen, and spend a lot of time to sail among the islands and fjords. And perhaps stay somewhere and rent a car to visit the inland. And after that, sailing back via Shetland and Scotland?
Merci Beaucoup François & Valérie for letting the readers of Scandinavian Mariner Magazine hear all about your journey so far.
- We wish you Fair Winds!
If you want to know more about François & Valéries journey, they keep a wonderful blog that can be found clicking the button below.
You may also be interested in:
Please follow our Facebook Page for daily updates from the world of sailing in Scandinavia!